The trend of SSD nowadays is shifting from MLC to a more cost efficient TLC flash memory and Plextor too with no exception, will be fully adopting the TLC memory on its upcoming products. As there are users who still prefer MLC SSD, Plextor, the world's leading brand in high-performance digital storage devices today announces its last model in the MLC SSD product line, the S1 Series SSD for these users.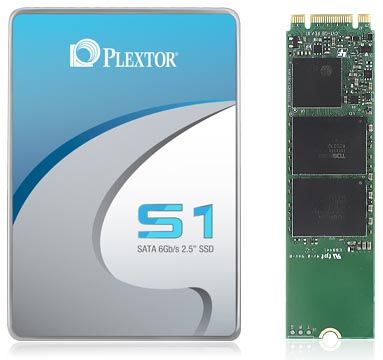 Plextor's S1 series are designed with the best price-performance ratio in mind to meet the need of the Southeast Asian Market and will only be available for the Southeast Asia region because of the limited quantity of the MLC SSD. This means, you will have to come to the Southeast Asia region for the last chance to buy the MLC flash memory based SSD.
The strength of S1's core components comes from the Toshiba's high-quality Toggle Mode MLC NAND flash memory, as well as the SMI's well-reputed SM2246 controller. By extending Plextor's exclusive firmware technology, and employing industry-preferred components, the S1 series provides users with performance up to 510/440 MB/s in sequential read/write and 74K/79K IOPS in random read/write, respectively. The excellent performance data exhibited by the S1 series bring application advantages to users which exceed those of entry-level solutions.
The S1 series is suitable as an entry-level SSD for all types of users to drastically improve the load time of all applications, increase productivity, improve power efficiency, and enhance total system responsiveness. The S1 may not be the fastest drive on the market, but was carefully designed to provide the best value possible and still perform at amazing SSD speeds that won't break the bank.
Plextor's S1 series has successfully passed various stringent factory tests and with no doubt, meet the needs of SSD storage and upgrade requirements by desktop and laptop users. The S1 series SSD will be available in two interface specifications: 2.5-inch (S1C) and M.2 2280 (S1G), two different storage capacity of 128GB and 256GB, and is covered by a 3-year warranty.
*Disclosure: An important note, we are just sharing this information to the public, provided by our source. Plextor - Info / Logos / Photos / Images have respective copyrights.