As data breaches are still pervasive nowadays, it increases the need to ensure sensitive information is properly retained, stored, and protected. To help companies and organizations secure sensitive data, Kingston, the independent world leader in memory products, today announced the release of IronKey™ D300 and IronKey D300 Managed encrypted USB Flash drives. Both drives deploy an advanced level of encryption that builds on the features that have made IronKey such a well-respected name when it comes to safeguarding sensitive information. Kingston acquired the USB technology and assets of IronKey in February 2016.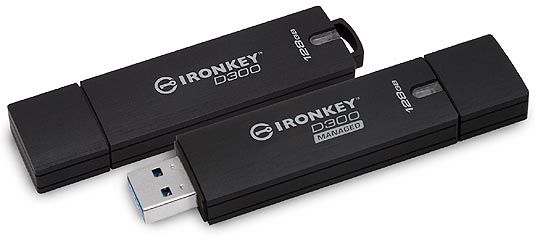 IronKey D300 is FIPS 140-2 Level 3 certified, with 256-bit AES hardware encryption in XTS mode. The drive's exterior is made with a zinc casing and waterproof* to 4 feet while the interior components are encased in a tamper-evident epoxy seal for physical security. IronKey D300 employs digitally signed firmware, making it immune to the BadUSB malware, and it enforces complex password protocol** with minimum characteristics to prevent unauthorized access. Encryption and decryption is done on the drive with no trace left on the host system and the drive locks down and reformats after 10 invalid attempts, to protect against brute force attacks.
"We leveraged Kingston's history of delivering high-quality Flash memory products with IronKey's trusted reputation in the encrypted storage industry to create a strong, reliable USB Flash drive that will last for years to come," said Nathan Su, Flash Memory Sales Director, APAC Region, Kingston. "Our goal is to make IronKey D300 available to more organizations than ever before. Customers who need managed and/or non-managed encrypted drives will find IronKey D300 to be the most up-to-date, affordable and cost-effective solution to deploy in their workplace."
IronKey D300 managed requires IronKey EMS by DataLocker®*** which allows central management of drive access and usage across thousands of drives. IronKey EMS is a flexible management solution as it can be either cloud-based or on premises. It enforces drive-specific policies such as password strength and retry limits, and lets administrators remotely disable lost or stolen drives, recover lost passwords and more. Kingston and DataLocker have been close partners working together on managed encrypted solutions.
"Our ongoing partnership with Kingston allows us to be leaders in the Secure USB Management arena," said Jay Kim, CEO, DataLocker. "The IronKey D300 and D300 Managed Encrypted USB Flash Drives are two more tools that allow us to safeguard our customers' sensitive data with the most advanced level of security."
IronKey D300 and IronKey D300 Managed drives offer fast USB 3.0 data transfer rates and are available in 4GB, 8GB, 16GB, 32GB, 64GB and 128GB capacities. Both drives are backed by a five-year warranty, free technical support and legendary Kingston reliability.
* Product must be clean and dry before use
** Password requirements set by Administrator during set up using IronKey EMS for IronKey D300 Managed drives.
*** IronKey EMS by DataLocker, purchased separately. Learn more at DataLocker.com
For more information about the product(s), please visit the Kingston website (click here).
*Disclosure: An important note, we are just sharing this information to the public, provided by our source. Kingston - Info / Logos / Photos / Images has respective copyrights.