Apacer recently introduces a flash drive AH190 compatible with iOS, Mac and PC to simplify the workflow of transferring files between iOS devices and PCs. You can use it to store photos and videos from your iPhone & iPad without the need of iTunes, and transfer photos and videos from AH190 by using Apacer iFilebridge App.
The AH190 provides a luxurious design with meticulous quality plus the convenience of combined Lightning and USB 3.1 Gen 1 connectivity. It has snap on clear plastic caps on each end of the device, for protection of the Lightning connector and the USB connector. It is lightweight and thin, and can easily be carried in your pocket.
The Lightening connector is super easy to use. You can just plug and play. An Apple app automatically comes up on your iPhone or iPad, the first time the Lightning connector is plugged into your Apple device, asking to install an Apacer iFileBridge app.
When the iFileBridge app is installed, the green icon of it will appear on the screen. This iFileBridge app is used to control transfers of all files to and from your Apple device and the Apacer AH190 drive. Operation is simple through the app. To transfer files to and from your PC and the Flash drive, no additional software is needed.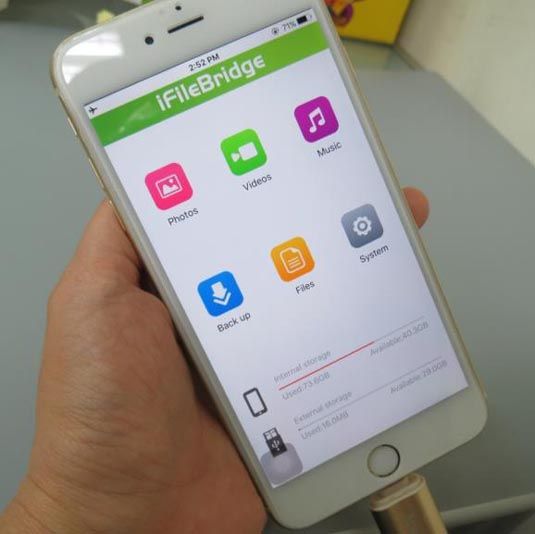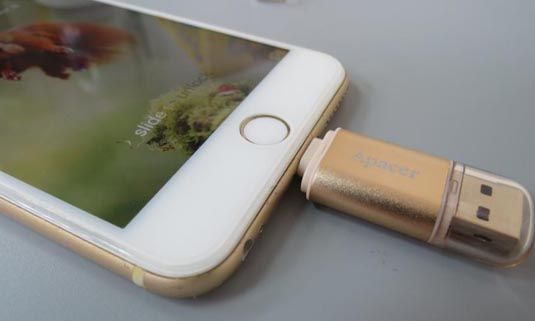 The app's interface has six sections: Photos, Videos, Music, Back up, Files, and System. The used and available storage space of internal storage and external storage displays in the bottom on the home screen. The interface is clean and easy to understand. You can view and playback files on the app itself seamlessly.
With iFileBridge, you can manage all types of files, including photos, videos, and documents. To copy a file, you just tap Files on the home screen, Tap Copy to copy an item, and then move and paste it to the destination. The app makes it really easy for you to copy/transfer files back and forth between your phone or iPad and flash drive. Here I show you how easy you can copy your pictures on iPhone and move to AH190 flash drive.
1)
Click on the [Files] icon for file transfer between your phone and the flash drive.
2)
To access the storage on your phone, click the [iPhone] to proceed
3)
You can see all pictures of your phone
4)
You can select some or select all, then copy and move those files (and can see the other function such as Cut, paste, Rename or Delete)
5)
Choose [iFileBridge] and you can access your storage on AH190 flash drive.
6)
You can create a new folder and then paste those selected files. The files transfer is easily done by just a few clicks.
For backup, you can choose to back up the whole photos and videos on the device, or back up the contact list. It makes it so much faster to be able to transfer those photos, or movies to your computer as a backup if you aren't backing up to the cloud.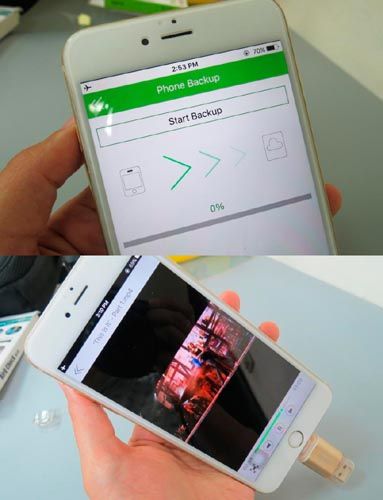 I copied a .mp4 in the drive to see if it could be played directly on the iPhone without any additional software, and the video played great, no lag or anything. It didn't take any second to buffer, it just played directly. With this flash drive, you can quickly copy a file to the flash drive from your desktop or laptop and then you can quickly play it on your iPhone. According to Apacer's website, the multimedia format that can be recognized by iFileBridge includes: m4a, caf, aiff, asf, aac, mp3, wav, m4v, mp4, mov.
Apacer AH190 is a great flash drive for anyone that needs a storage extension for iOS devices. This flash drive can extend your storage by 32 GB, which is a lot of storage space. The device will ask you to install a free app, and after you do, you can transfer data between your phone and the flash drive.
I really like how fast this flash drive transfers data, as it doesn't make me wait long for my files to transmit. This is great for transferring files quickly between the iPhone and computer without having to go through iTunes. Overall, this is a great flash drive bring advanced usability and style together, and I would recommend it to you.
*Disclosure: An important note, we are just sharing this information to the public, provided by our source. Apacer - Info / Logos / Photos / Images has respective copyrights.