Transcend is proud to introduce its complete Lightning® product line-up specifically designed for Apple's iPhone®, iPad®, and iPod®. The newly-released RDA2W Smart Reader and JetDrive Go flash drives are all equipped with a Lightning connector. With Transcend's powerful apps, users can easily transfer files between Apple iOS devices and computers, efficiently manage their data, and instantly expand their storage capacity.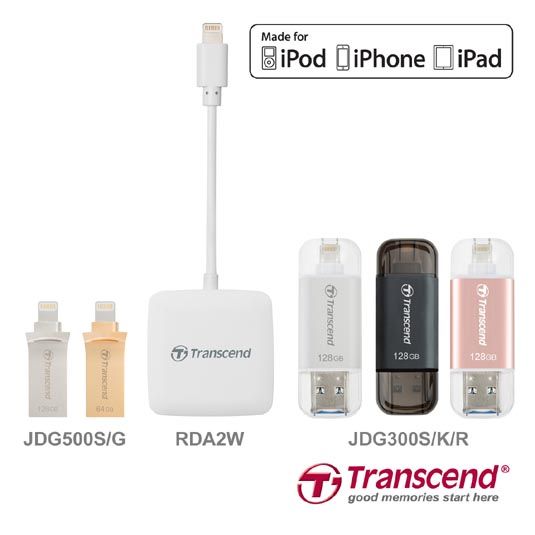 RDA2W Smart Reader & Exclusive Smart Reader App
Transcend's RDA2W Smart Reader is equipped with a Lightning connector specifically designed for iOS devices, including iPhone, iPad, and iPod. Featuring card slots for both SD and microSD cards, the RDA2W offers a brand-new alternative for expanding iOS device's storage capacity. With Transcend's convenient Smart Reader app, the RDA2W is more than a standard card reader. Useful features include data backups, card formatting, file encryption, file compression and decompression, direct saving of audio recordings to memory cards, and easy access to cloud storage.
JetDrive Go 300/JetDrive Go 500 Flash Drives & Exclusive JetDrive Go App
Both JetDrive Go 300 and JetDrive Go 500 combine a Lightning connector and a regular USB 3.1 (Gen 1) connector into a single flash drive, providing an ultra-convenient way to back up and transfer files among iOS devices and computers. The USB 3.1 Gen 1 connector offers incredible transfer speeds of up to 130MB/s, offering ultra-fast data transfer. In addition, both series feature an extended Lightning connector for easy plug-in, whilst the JetDrive Go 500 additionally boasts a compact and refined metallic design. For both JetDrive Go series, Transcend's powerful JetDrive Go App offers an intuitive interface that provides simple data transfer, easy file management, and quick backup of data. Other convenient functions such as Shoot and Save enables users to shoot and save photos, videos, and audio recordings directly to the flash drive, while the password protection function allows for secure data storage.
Apple MFi Certified to Guarantee Compatibility
MFi (Made for iPod/iPhone/iPad) certification, Apple's licensing program for third-party hardware accessories that are intended for iOS devices, ensures accessories are both compatible and safe to use. Transcend's RDA2 Smart Reader, JetDrive Go 300 and JetDrive Go 500 flash drives have gone through a rigorous approval process to be Apple MFi certified to not only guarantee compatibility and safety, but also quality that meets Apple's stringent performance and manufacturing requirements.
Transcend's JetDrive Go 300 is available in silver, black and rose gold colors with 32GB, 64GB and 128GB capacities; the JetDrive Go 500 is available in gold color with 32GB and 64GB capacities and in silver with up to 128GB capacities. Both RDA2W Smart Reader and JetDrive Go series are backed by Transcend's Two-year Limited Warranty.
Note:
Lightning®, iPhone®, iPad®, and iPod® are trademarks of Apple Inc.
"Made for iPod," "Made for iPhone," and "Made for iPad" mean that an electronic accessory has been designed to connect specifically to iPod, iPhone, or iPad, respectively, and has been certified by the developer to meet Apple performance standards. Apple is not responsible for the operation of this device or its compliance with safety and regulatory standards. Please note that the use of this accessory with iPod, iPhone, or iPad may affect wireless performance.
For more information about the product(s), please visit the Transcend website (click here).
*Disclosure: An important note, we are just sharing this information to the public, provided by our source. Transcend - Info / Logos / Photos / Images have respective copyrights.