PNY Technologies (PNY) is proud to announce that the DUO-LINK OU4 OTG USB 3.0 Flash drive is now available at Lazada.com, Philippine most popular e-commerce (online shopping) company. The DUO-LINK OU4 can now be directly purchased from http://www.lazada.com.ph/ with attractive prices and at discount rates. Buyers can also have the product directly shipped to their designated addresses. Apart from the OU4, buyers can also purchase a variety of other PNY products available from Lazada.com and select their favourite PNY gadget from Lazada's impressive list of items available under PNY section.
Lazada.com is a privately owned Singaporean e-commerce company founded by Rocket Internet, a German internet company headquartered in Berlin, in 2011. Lazada.com is the one-stop online shopping destination for mobiles, electronics, appliances, fashion, lifestyle and wide range of original products with cash on delivery and free shipping options. It also offers exciting deals, sales, coupons and discount rates on selected products with 100% buyer protection and secured payments and promised warranties.
The OU4 DUO-LINK is the perfect alternate external storage solution for adding digital content and transferring it from a computer to your Android smartphones, tablets and more. The drive offers fast transfers of photos, videos, and music to any computer with a USB 3.0 or 2.0 port, making it easy to free up space on your Android devices. Manufactured in durable metal casing, it features a swivel design cap that can be rotated to the side to reveal the microUSB 3.0 placed underneath it. The swivel plastic cap protects the USB port from scratches. It delivers transfer rates of up to 120 MB/s read (32/64GB) and up to 20MB/s write(32/64GB), which transfers files 5x faster than traditional 2.0 OTG drives available in the market.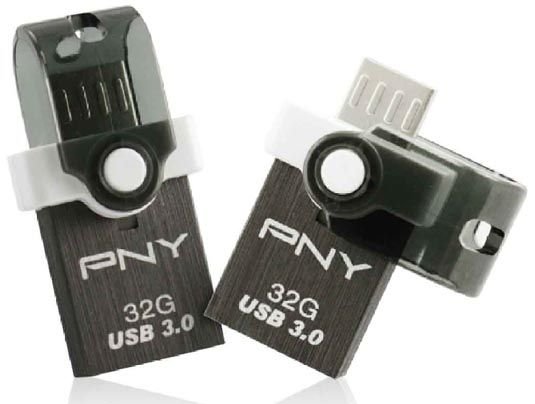 It comes with 8-64GB storage capacity, which provides enough space to capture images and videos from your smartphone. The DUO-LINK OU4 is backed with a promised warranty of two years within the date of purchase. It can be used with almost all the latest Android smartphones available in the market supporting Android 4.0 operating system and later.

Visit http://www.lazada.com.ph/ to buy the DUO-LINK at special discount rates with cash-on-delivery service provided by Lazada.com.
Regarding RMA issue, all RMA products needs to return back to distributor to obtain authorization to return the product. All you need to do is fill in RMA online request form available at http://www.pny.com.tw/index.php?mode=repair, fill out the required details with proof that the damaged product is under warranty (invoice photocopy). Upon receiving confirmation, PNY's RMA team will immediately contact the buyer within 3 working days and issue the RMA or RGA number.
You can also find diverse range of PNY products including PNY's UFD, power bank, SSD, mobile accessory, flash card, Apple lightning products, and Type-C flash drives on http://www.lazada.com.ph/.
*Disclosure: An important note, we are just sharing this information to the public, provided by our source. PNY Technologies - Info / Logos / Photos / Images has respective copyrights.